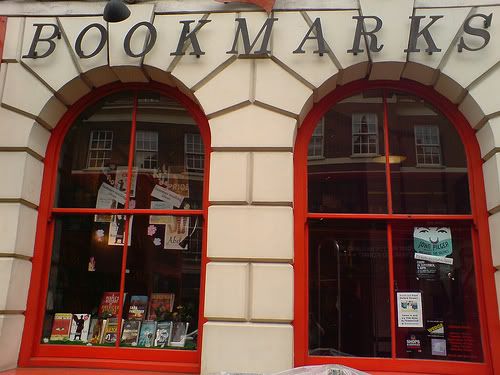 For this week's edition of Weekly Geeks, I'd like to focus on one of the most useful tools for a bibliophile: Bookmarks.
Do you use bookmarks or just grab whatever is handy to mark your page? Do you collect lots of different bookmarks or do you have a favorite one that you use exclusively? If you're not someone who uses bookmarks on a regular basis, have you ever used anything odd to mark your place?
If you make your own bookmarks or have a bookmark collection, please feel free to share some pictures with the rest of us.
My relationship with bookmarks is ambivalent. I love to look at them. They often have great quotes on them and look beautiful. In fact to me they are a decorative item, and that's it. I never use them. I have some, of course, but I invariably lose them and can never find them again. The reason I buy them nowadays is to give them away with a book as a gift, because I like the idea to combine the two for other people.
These days I read mostly e-books and don't have any use for bookmarks. When I read print books I use dog-ears as bookmarks. They do the trick and can't get lost and my kids won't snatch them away. The perfect solution for me. I can already hear people saying, "Oh, how can she mark books with dog-ears?", "Books are sacred and can't be desecrated with dog-ears." Each to his own, but for me this is utter nonsense. It's not a specific book that is sacred, but the abstract thought of books. What is sacred is what books stand for, what they can give us and what they mean to us. A physical book is just some paper, often not even very good quality, and gets treated like every other item in my household – with not much respect. It's just a thing.
So, no bookmarks for me, but if I used them, I'd probably get them at Bookwormz on Etsy.
Photo of "Bookmarks" from secretlondon123 at flick'r