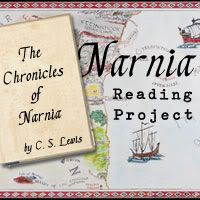 I am sure there has been a reading challenge for "The Chronicles of Narnia" by C. S. Lewis before but I couldn't find a current one. I am a Narnia beginner and don't want to join in anywhere where people are already up to book five or even re-reading.
I have NEVER read a Narnia book before, have never seen a film and am clueless about the story. But I here they are good.
I am planning to read all seven books – unless it turns out I hate the whole world or concept – and am looking for some fellow readers who are as new to Narnia as I am and would like to explore it with me and other likeminded people.
You are one of them? Great! Head on over to my Narnia Reading Project page and sign up! If you would like to grab my Narnia button, just copy the code in the box at the bottom of this post and paste it into your sidebar or your posts.
My estimated timeline is until the end of 2012. I would like to start reading in January, so we all have still time to get at least the first book, which for me will be "The Lion, the Witch and the Wardrobe". You can find more info about the reading order on the project page.
So, what do you say? Are you in?
Code for above Narnia button: