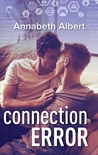 Connection Error by Annabeth Albert
My rating: 4 of 5 stars
Connection Error is the third book in the #gaymers series, but the first book that I have read (in the series and by this author). It can easily read as a stand alone as the previous books' characters appear in it but play only a very minor part.
Josiah and Ryan were likeable characters who both had issues that were dealt with in a very realistic way. There was no head over heels in love, no unnecessary drama and none of the usual contrived miscommunication. There were feelings developing slowly, misgivings that were perfectly understandable and a lot of time apart. The few sex scenes were not too explicit or drawn out (surprising for me, but maybe that is Annabeth Albert's style) but sensual nonetheless. A lot of online meetings were only mentioned and not described in detail, but it didn't take away from the story. The slow burning plot was a very good touch and made the scenes when the guys got together and emotional even more rewarding.
Even though the issues standing in the way of a relationship were quite serious I didn't think this was too angsty – on the contrary. The hurt and angst was wrapped in such a way that you didn't feel like you had been through the emotional wringer after finishing. A good thing in my book. A very enjoyable read.
I received a free copy of this book from the publisher in exchange for an honest review.