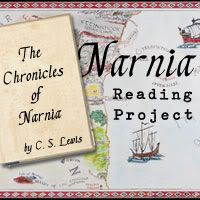 This the page for "The last battle" where we can either link people up to our blog posts about this book or start a discussion in the comments.
To get us started here are some questions from the Reading Group Guide at Harper Collins:
Though Puzzle helps Shift further his evil plans, he is easily forgiven. Does the outcome differ for those who act on their own conscience instead of following the orders of others? What judgments does the book render on faith, leadership, and human behavior? 
Beloved Narnia is demolished both by creatures and larger forces. Does the existence of a better, truer Narnia temper this apocalyptic phase? 
Of which ideals of the afterlife is this book a proponent? Do these ideals mesh with your own vision?