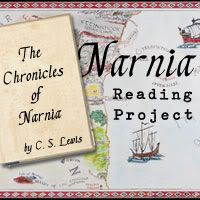 This the page for "The magician's nephew" where we can either link people up to our blog posts about this book or start a discussion in the comments.
To get us started here are some questions from the Reading Group Guide at Harper Collins:
Many of Narnia's fantastical creatures are personified; name some of them. Which human qualities are most celebrated? Which are not?
Elements of fantasy and real life are intermingled in the worlds of Charn and Narnia. What are some characteristics of each world that exemplify this combination? What makes these worlds so different from each other?
Although they are children, both Polly and Digory have very distinct personalities. By portraying Polly and Digory the way he did, what message(s) might Lewis have been sending to children about stereotypical and nonstereotypical behavior?
Since Uncle Andrew and the Witch are both proponents of magic, ostensibly it is portrayed in a bad light. How is magic celebrated?