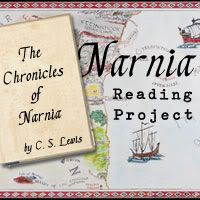 This the page for "The silver chair" where we can either link people up to our blog posts about this book or start a discussion in the comments.
To get us started here are some questions from the Reading Group Guide at Harper Collins:
Much of the novel is spent in bleaker lands than Narnia. Other than physical characteristics, what are some differences? Are any of the inhabitants at all similar to Narnians?
How do Puddleglum's actions contrast with his attitudes? Does he do anything surprising? Can he be characterized as a hero? Can Jill or Eustace, given their behavior?
Jill and Eustace are misled by the appearance of the Queen of Underland and the festival at Harfang.
At what other times are they deceived by appearance's?